Your home's curb appeal can be impacted by many factors. If you don't consider updating your garage door just as you would your landscaping, windows, or entry doors, you could be missing a big opportunity to elevate your home's exterior value and aesthetic.
This blog highlights the top garage door trends to consider when looking to up the appeal of your home's exterior.
Modern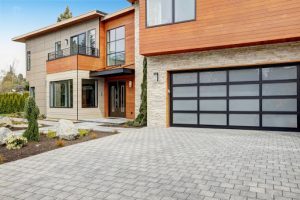 Modern-looking home exteriors are minimalist, sleek, and are often built with large windows. This modern trend has given way to modern garage door styles that feature much more window space to complement this style.
A garage door with an aluminum frame and many window panes should be at the top of every homeowner's wish list. Not only does this style look great from the outside, it also adds a flood of natural light into a (typically) dark garage.
If you are someone who works in your garage, you'll appreciate the added light, especially in the winter. There are also several types of specialty glass that can be installed to achieve the privacy that you desire.
Carriage-House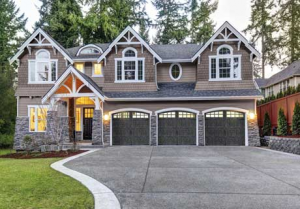 Carriage-house garage doors have a modern farmhouse aesthetic. This style has a vintage feel with sophisticated and modernized updates. Carriage-house garage doors come in a number of styles and colours — most commonly with the appearance of woodgrain — and are usually crafted with multiple layers of steel and insulation for durability and warmth. If your personal style is more traditional than modern, carriage-house garage doors are the style for you.
Vertical Windows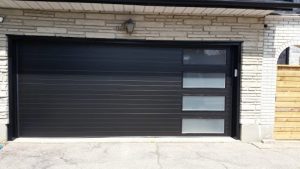 Garage doors with more windows are undoubtedly a growing trend and that's why vertical windows are showing up more and more. This style is highly customizable and allows for more natural light to fill your garage. This door style is very modern and will suit a home with a similar design. Available in many finishes and colours, this door is made of steel is available with or without grooves in the panels.
Quiet Operation
Noisy and squeaky garage doors are a thing of the past!
You no longer have to cringe every time you hear a family member come and go from your home because we carry a has a great selection of garage door openers and accessories by Liftmaster that are nearly silent.
Smart Garage Door Openers
Smart garage door openers are a more advanced version of the classic remote-controlled opener. Today's technology allows you to monitor and open and close your garage from anywhere. Paired with a mobile app, the smart opener can even send you alerts if you've left the door open.
With this technology, you can open and close your garage for deliveries throughout the day from work, at your kids' hockey practice, or anywhere else! Some models are even equipped with two-way audio and built-in integrations with Siri, Alexa, and Google.
Haws Overhead Garage Doors can provide everything you need to spruce up, replace, and repair your garage door. Contact us to learn more about our products and services and we'll be happy to help!